At Pinpoint Manufacturing, as well as having a wide range of large lifting bags designed to house a vast range of items, we also have a range of Rucksack Style Personal Bags that are ideal for use with tools, equipment, and other smaller items.
Let's take a closer look at our Rucksack Style Personal Bags, their uses, benefits, and features. 
All rucksack style personal bags have padded shoulder straps like a rucksack, and they can also include either a lifting loop or lifting eye depending on the pack chosen. They are also load-rated like all our other bags and come with a clearly stated Working Load Limit so that you can hoist them safely if required.
We offer the option of adding a plastic insert to the bags to help retain their shape and to reinforce the bottoms of the bags to increase their durability.
All our bags are available in a wide range of colours, including light blue, dark blue, lime green, dark green, orange, red, grey, black, purple, and yellow, and they can be personalised with a name or company logo if required.
As with all our bags, we manufacture the rucksack style personal bags using high tenacity polyester with a tensile strength of 400/380 DAN, and they're also heat resistant to +70°C and cold resistant to -30°C.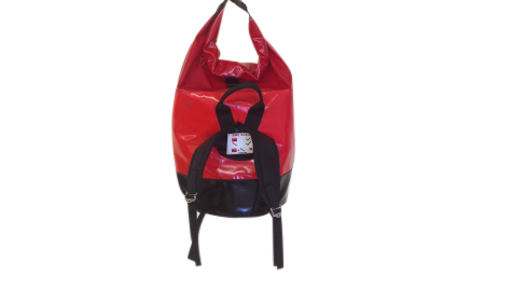 PPE400 – Personal Protective Equipment Bag
Our Personal Protective Equipment Bag measures 800mm in height, has a diameter of 400mm, and comes with padded shoulders for comfortable wear for the user. This bag has a roll-down top with a clip fastening for security and a webbing lifting loop, meaning no metal. It also has a certified Working Load Limit of a massive 100kg, meaning it's incredibly versatile and useful.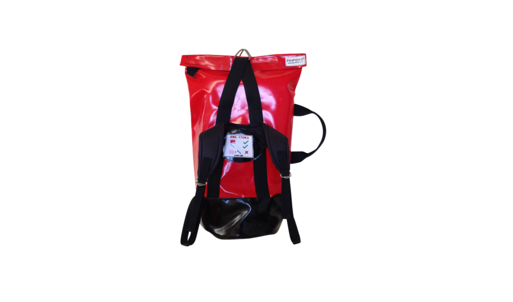 STAB30 – Small Tower Accumulator Bag
The Small Tower Accumulator Bag measures 700mm high, has a diameter of 300mm, and comes complete with padded shoulders for comfortable wear for the user. It is also available with or without a plastic insert, has a strong Velcro closure for maximum lifespan and comes available with the option of 2 metal lifting eyes. It has an even higher Working Load Limit than the Personal Protective Equipment Bag and will hold up to 170kg safely and securely.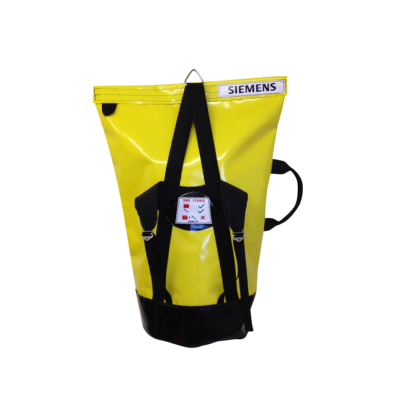 DRLB400 – Double Reinforced Lifting Bag
The DRLB400 Double Reinforced Lifting Bag measures 800mm in height, 400mm in diameter. There are also other sizes of this bag available; however, this is the only size that comes with rucksack straps. The bag has a secure Velcro closure, and we can attach one lifting eye if this is required. As with the Small Tower Accumulator Bag, this bag has a Working Load Limit of 170kg. 
After detailed research with our end users, we expertly design our rucksack style personal bags. They've also been through the same rigorous safety testing process as all our lifting bags and come with a Certificate of Conformity and clearly stated Working Load Limit. If you'd like to find out more about this range of bags, or any of the other bags in our range, we'd be delighted to help you. Get in touch with us by emailing [email protected] or call us now on 01792 851 298.