Our Open Top Lifting Bags are unanimously popular with many of our clients. We designed these lifting bags to keep the contents secure but to allow easy access with no restrictions when required.
Let's look at our Open Top Lifting Bags: Benefits, Features, and Other Properties.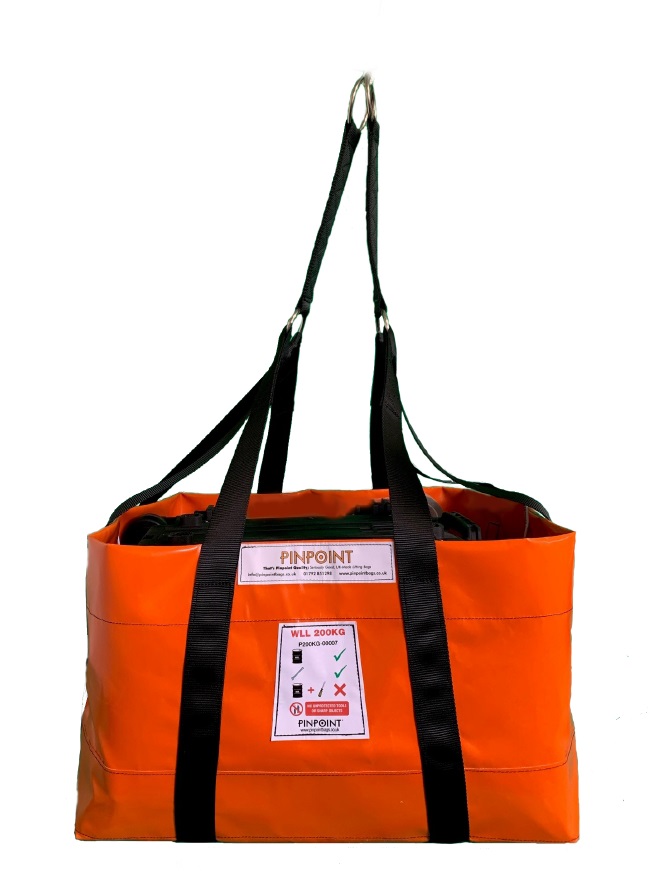 The Open Top Lifting Bags come with two heavy-duty lifting slings and stainless-steel lifting eyes, plus the option to add either an external or internal tray. External and internal trays help with lifting stability and ensure the bags are raised, moved, and placed down easily without damaging the items inside.
Our Open Top Lifting Bags are available with Working Load Limits of between 200kg and 1000kg depending on our clients' needs. We rigorously test all our bags, and all issue each bag with a Certificate of Conformity and the clearly stated Working Load Limit. As with all the bags in our range, we can declare a lower Working Load Limit on the front panel to ensure capacity is not exceeded (at our clients' request).
We have a range of sizes available. Our largest capacity bag holds up to 1000kg and is a whopping 600mm x 500mm x 400mm!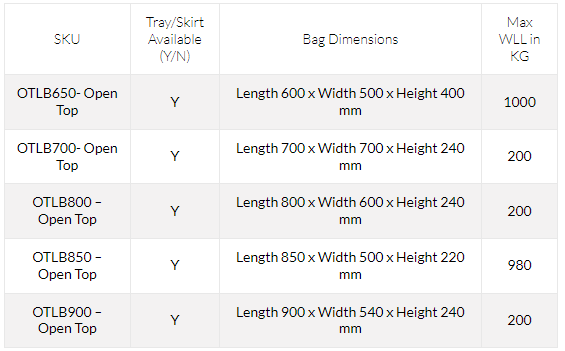 The bags come in a selection of colours to conform to your branding or how you colour code items when they're being lifted and stored. The colours are light blue, dark blue, lime green, dark green, orange, red, silver, black, purple and yellow. There is also the option for us to add a bespoke label or custom logo to the bags to keep your branding consistent. We also offer the addition of a window pocket to the bags if required.
We designed and created our Open Top Lifting Bags after detailed research and input from the end users. The material used in our bags is high tenacity polyester with a tensile strength of 400/380 DAN. Because of the high tenacity of polyester, these bags also have high-temperature resistance. They will perform at temperatures of up to 70 degrees Celsius, all the way down to minus 30 degrees Celsius. This durability makes them reliable, hard-wearing, and great for many industries and uses. If you would like to find out more about our range of Open Top Lifting Bags, have any questions about our lifting bags, or would like to place an order, our team are on hand to help. Get in touch with us now by calling 01792 851 298 or emailing [email protected], and a team member will be in touch shortly.