We have a small yet very close-knit team here at Pinpoint. Being an SME, everyone's role is integral to the company's day-to-day running. Every team member works as hard as they can, day in and day out, to bring our customers the best quality products and services available, but who are these invaluable people?
Sandra La Grange – Managing Director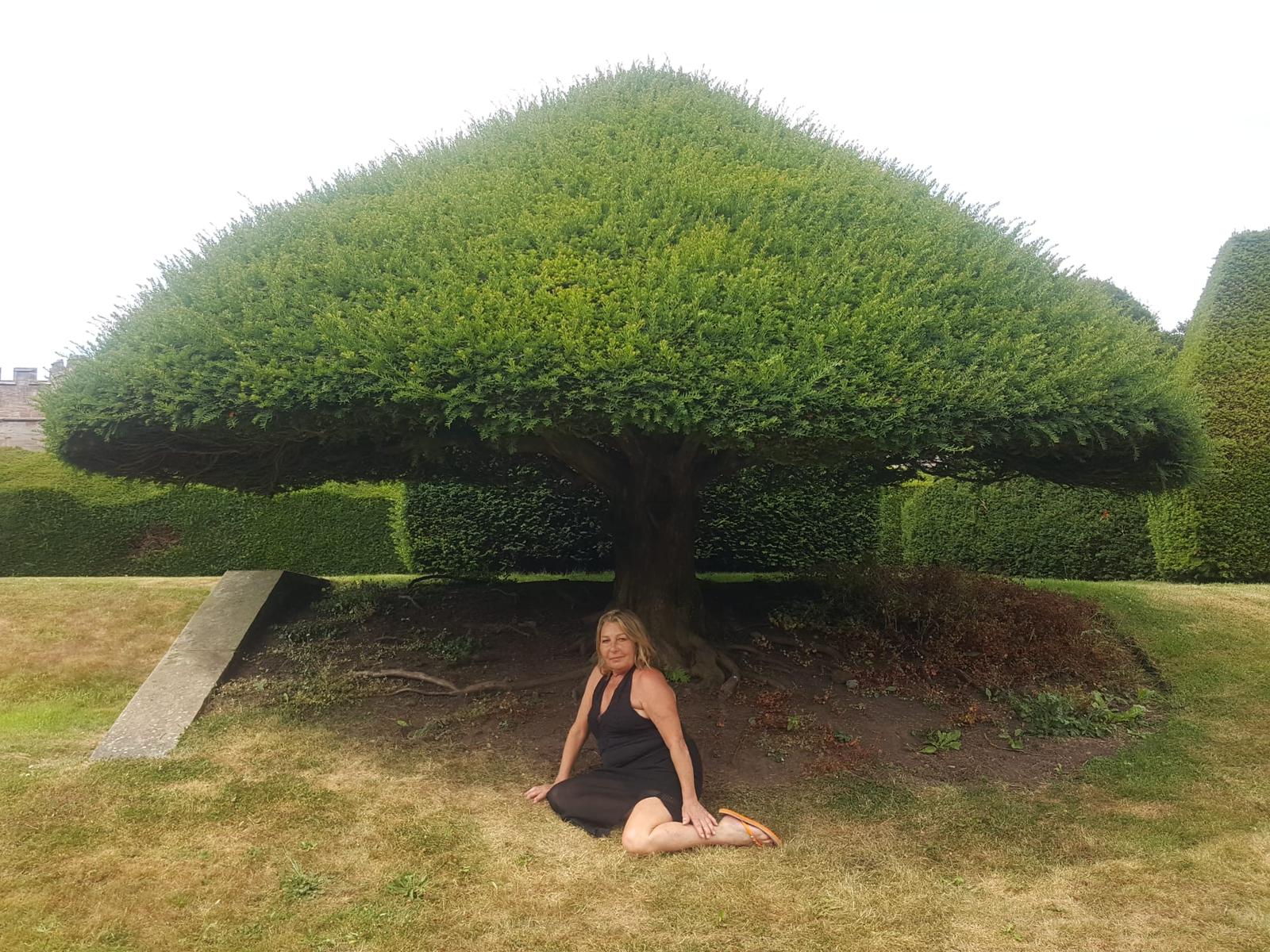 Sandra started the company in 2006 from her home in Gower, South Wales. "Back in the day," long before Pinpoint, Sandra had a passion for motorbikes and leatherwork. She spent a lot of her spare time repairing friends' motorbike seats and leather jackets and creating handy trinkets out of leather. After gaining recognition for her leatherwork, Sandra became well-known across Swansea for her skill. Others needing repairs began to approach her, which snowballed as she moved on to working with new materials. Eventually, she started making Marquees. As her recognition grew, a company came to Sandra, asking if she could design a load-rated lifting bag. Her design was perfect for their requirement, and 'voila' Pinpoint Bags was born.
After many years of development and hard work, Sandra is a little less 'hands-on' with the company now, and although in constant contact with the team, she spends her leisure time travelling and has converted from motorbikes to horse riding.
Jennifer La Grange – Design Director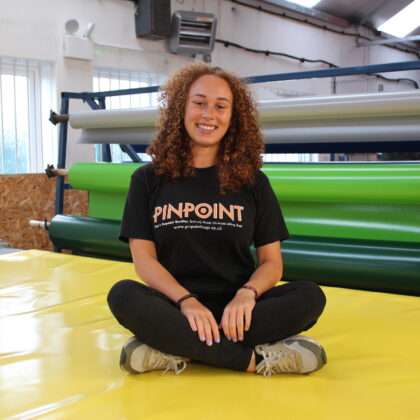 Sandra's daughter Jennifer has been involved with Pinpoint since its inception and knows the products inside and out. After finishing her A-Levels studying product design, Jennifer started full-time in 2016. She has stepped up as Design Director, now responsible for our new products and bespoke design requests.
Jennifer spends most of her time outside of work walking her dogs, Tamba and Isla, and travelling as often as she can. Tamba and Isla love trying new food (often being spoilt by the team) and long walks on the beach.
Caron & Kayte – Admin Officers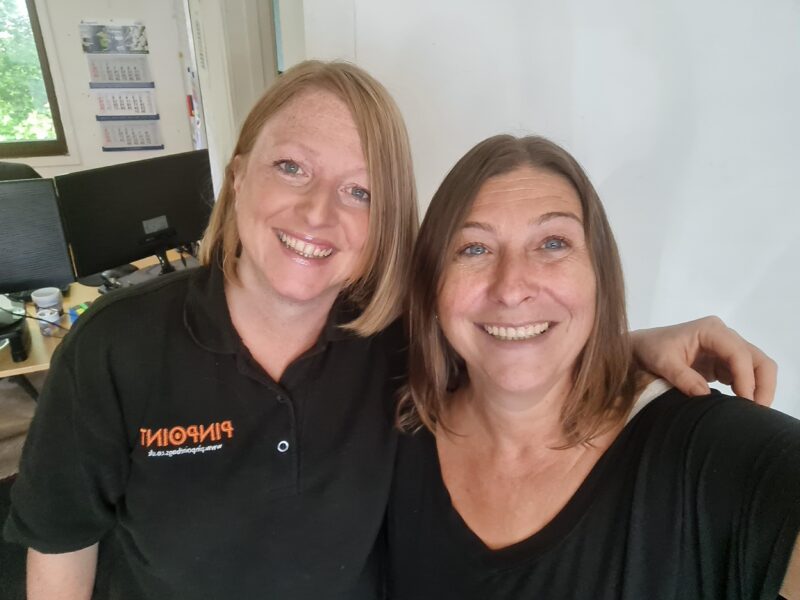 Caron is the most recent team member, joining us in August 2021. She slotted into the dynamic with ease and is picking up product knowledge like lightning!
Kayte has been with the business since November 2018 and is key to the smooth running of the office. She has extensive knowledge of Pinpoint products and has an excellent rapport with the customers!
Caron and Kayte, combined, bring a wealth of knowledge and experience to the effective smooth running of the office. They both have similar interests, travelling, sport, and most of all 'socialising'!
Marcin, Darrell and Chris – Production Team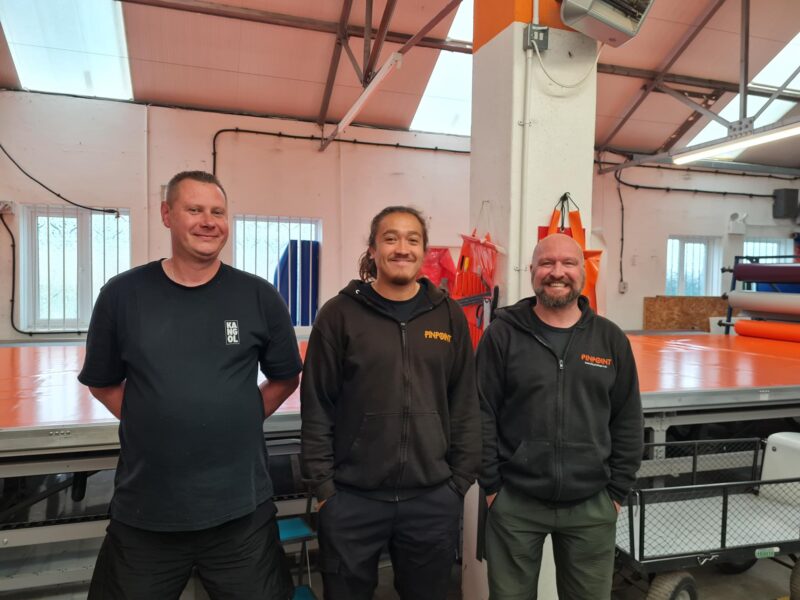 'The Boys' as they are affectionately known, fit the trays to the bags, do the bulk of the QC checks and prepare the products for dispatch. They actually do a fair bit more than this, but we'd be going through the list all day!
Marcin is the Production Supervisor and has been with Pinpoint since May 2018 and is fundamental to the smooth running of the production unit.
Darrell is the longest-serving member of staff at Pinpoint and, for his sins, has been with the company for around seven years.
Chris started around the same time as Marcin and is definitely the 'Class Clown'.
Joanna, Marzena, Anna, Ewa and Adam – Sewing Team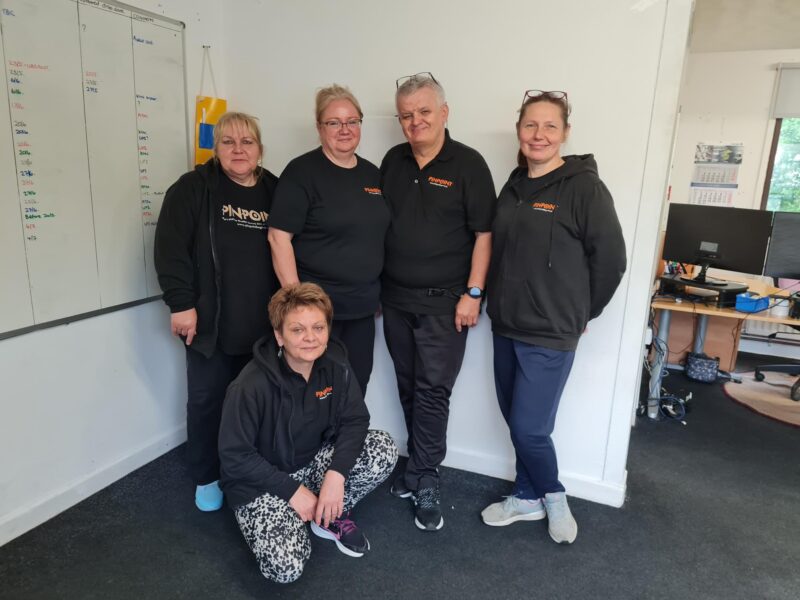 All experienced machinists, we couldn't wish for a more skilled and experienced team. Without these guys, we couldn't offer such high-quality bags!
Joanna is an absolute joy to have around. She is full of enthusiasm and is always smiling. She enjoys all kinds of exercise, particularly yoga and gymnastics.
Anna is family-focused and absolutely dotes on her young granddaughter. She always has new photos to show us.
Adam was originally a tailor, so he is fabulous with any detail required. He loves fixing things and always has a project on at home.
Ewa is Adam's long-suffering wife, and with constant home improvements going on, she has the patience of a saint!
Last but not least, we have Marzena, who eagerly waits for the summer so she can spend her time off basking in the sun on Oxwich beach, but living in Wales, she may only get about three days a year! 
The team at Pinpoint is a perfect mix, resulting in the creation and manufacture of bags that (we hope) exceed our customer's expectations!